On
Sale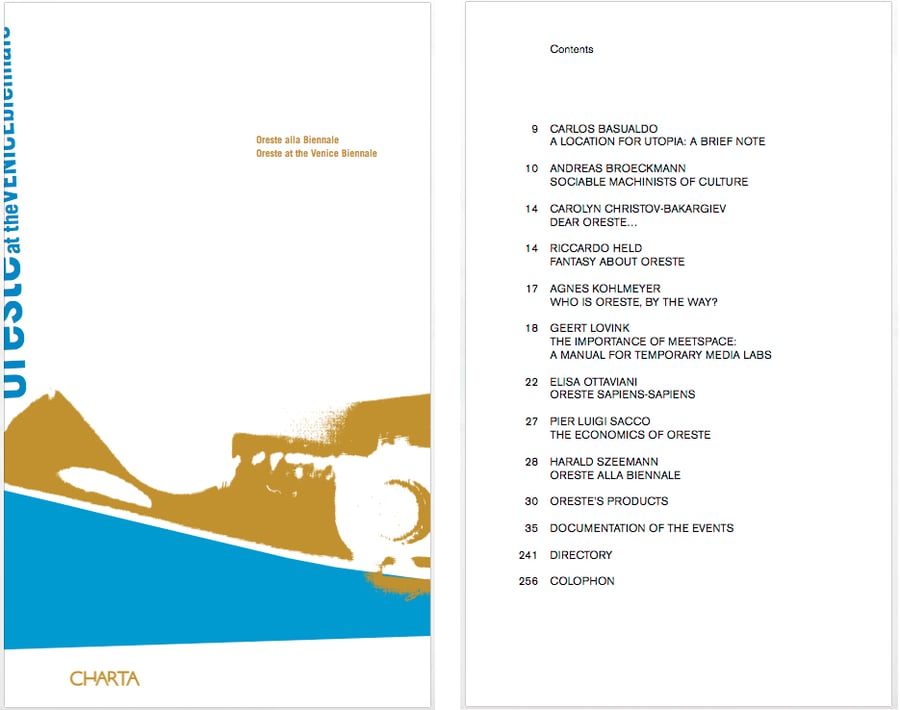 Oreste alla Biennale / Oreste at the Venice Biennale (2000)
€

8.00
Oreste alla Biennale. Oreste at the Venice Biennale
ISBN 88-8158-279-1
Editore: Charta Art Books
Anno: 2000
Formato: 12x20,5
Pagine: 256
Legatura: brossura con sovracoperta
Illustrazioni: 287 in b/n
Lingua: inglese/italiano
Autore: Carlos Basualdo, Andreas Broeckmann, Carolyn Christov-Bakargiev, Riccardo Held, Agnes Kohlmeyer, Geert Lovink, Elisa Ottaviani, Pier Luigi Sacco, Harald Szeemann
Oreste non è un gruppo che produce opere collettive, né una organizzazione non-profit. Sono varie persone, per lo più artisti italiani, che hanno lavorato insieme con lo scopo di dare spazio alle idee, alle invenzioni e ai progetti. Durante la 48ª Biennale di Venezia del 1999, in occasione dell'invito a "dAPERTutto", Oreste ha dato vita a una serie di incontri, performance, discussioni, conferenze, pranzi e incontri informali. Sono stati organizzati circa un centinaio di eventi e più di 500 persone di tutto il mondo hanno attivamente partecipato al progetto. Il volume - a cura di Giancarlo Norese con il contributo di Emilio Fantin e Cesare Pietroiusti - documenta gli eventi organizzati e una serie di contributi teorici di professionisti attivi in diversi campi.
/
Oreste alla Biennale. Oreste at the Venice Biennale
(edizioni Charta, Milan, 2000)
mainly bi-lingual (English and Italian); ISBN 88-8158-279-1
256 pages, 287 b/w illustrations
size: 12x20 cm
edition: 3500
Edited by Giancarlo Norese
with the assistance of Emilio Fantin and Cesare Pietroiusti
Oreste is not a group that produces collective artworks, nor a not-for-profit organization. It is a variable set of persons, mostly Italian artists, who have been working together with the aim of creating spaces of freedom for ideas, inventions, and projects.
Oreste was founded in 1997 as a residency program for artists in Paliano near Rome, and then moved to Montescaglioso in the province of Matera.
During the 48th Venice Biennale, from June 10th through November 7th 1999, on the occasion of an invitation to the exhibition dAPERTutto, Oreste set up an ongoing program of meetings, interactive performances, round table discussions, lectures, lunches and informal encounters. Almost one hundred events were organized, and more than five hundred people from the whole world took an active role in the project.
The book contains a documentation of the organized events, together with a series of theoretical contributions by professionals in diverse fields (Carlos Basualdo, Andreas Broeckmann, Carolyn Christov-Bakargiev, Riccardo Held, Agnes Kohlmeyer, Geert Lovink, Elisa Ottaviani, Pier Luigi Sacco, and Harald Szeemann).
Including contributions by A.N.Y.P., a.titolo, AAA Edizioni, Serhan Ada, Eduardo Alamaro, Francesca Alessandrini, Alberto Alessi, Francesco Alò, Martine Anderfuhren, Gordana Andjelic-Galic, Pepe Andreatta, Giovanni Andreotta, Lucio Annunziata, Jonathan Applefield, Archivio 3Vtre, Stefano Arienti, Ulla Arnell, Arte Continua, ARTEria, artway of thinking, A.S.I.A, Association of Autonomous Astronauts, Associazione Cervello a Sonagli, Associazione Circ.a, Associazione Culturale Dopotutto, Associazione Culturale Supernova, Associazione Terminale Marinella, Atelier G9, Attitudes, Caroline Bachmann, Giovanni Bai, Jasa Ban, Gianni Bandini, Cristina Bari, Marion Baruch, BASE / Progetti per l'Arte, Fabrizio Basso, Carlos Basualdo, Jochen Becker, Anna Bedon, Guido Belli, Elena Berriolo, Giorgina Bertolino, Big Sur Cooperative, Marco Biraghi, Julien Blaine, Sanja Bokan, Pino Boresta, Jens Brand, Petric' Branislav, Paolo Bresciani, Erich Breuer, Brigata ES, Franco Brocani, Andreas Broeckmann, Nicole Brossard, Hannes Brunner, Andreana Bruno, C.A.M., c/o care of, Camera Oscura, Rita Canarezza, Franco Caputo, Marco Carbone, Dario Carmentano, Daniela Cascella, Gea Casolaro, Franco Cassano, Claudia Cassatella, Antonella Catelli, Annalisa Cattani, David Caviola, Massimo Chieli, Carolyn Christov-Bakargiev, Chroma, Mara Cini, Silvia Cini, Luigi Cipparrone, Città Svelata, Civitella Ranieri Foundation, Cliostraat, Nathan Coley, Zoe Collier, Elena Cologni, Stefano Colonna, Francesca Comisso, Coordinamento Provinciale per la Pace, Pier Paolo Coro, Enrico Corte, Coyote Books, Mario Cresci, Ester Curcio, Gianni Curreli, Dean Daderko, Antonio D'Alfonso, Anna Daneri, Caterina Davinio, Anna D'Elia, De Fabriek, Rita Degli Esposti, Dein Klub, Plamen Dejanov & Swetlana Heger, Christian W. Denker, Raffaello De Ruggieri, Anna Detheridge, Paola Di Bello, Giovanna Di Costa, Digitalismus, Fabrizio Di Marzio, Gianni Donaudi, Beppe Drago, John Duncan, Edizioni l'Obliquo, Volker Eichelmann, En Plein Officina, EntarteteKunst, FA+, Jonathan Faiers, Salvatore Falci, Emilio Fantin, Barbara Fässler, Franco Fiorillo, Fabrizio Fiorini, foreign investment, Forte Prenestino, Regina Frank, Matteo Fraterno, Freeland / zone de gratuité, Céline Galliot, The GATE, Beppe Gaudino, John Gian, Eugenio Giliberti, Valentina Giua and Emiliano Parenti, Francesco Giusti, Glassbox, Coco Gordon, Grafio, Silvia Gramigna, Alfredo Granata, Viviana Gravano, Marija Grazio, Grupo Provisional, Gruppo 78, Gruppo A12, Gruppo Mille, Gianluigi Guido, Jans Haaning, Jusuf Hadzifejzovic, Sandra Hastenteufel, Riccardo Held, Matthew Higgs, Per Hüttner, Arben Iljazi, Francesco Impellizzeri, International Artists' Museum, Jeroen Jongeleen, Marcos Jorge, Goran Jovanovic, k-bulletin, Friederike Kaiser, Alfred Kedhi, Agnes Kohlmeyer, Konstakuten, Markus Kreiss, Charles Kriel, KünstlerHaus Bremen, Stephan Kurr, Louise Landes Levi, Amy Larkin, Kristina Leko, Lemming Associazione Culturale, Les Lemuriens, Nicoletta Leonardi, Linköpings Universitet - Campus Norrköping, Local Access, Anna Lombardo, Fabrizio Lombardo, Gianluca Lombardo, Isolde Loock, Vivien Lovell, Geert Lovink, Patrice Luchet, M+M, Antonio Macrina, Beral Madra, Teoman Madra, Antonella Marino, Shelley F. Marlow, Gianluca Marziani, Ferdinando Mazzitelli, Monica Mazzoleni, Giuliano Mesa, Maria Mesch, Metaxù / Quatermass Plunder Space Machine, Alexander Michael, Angelo Minieri, Chiyoko Miura, Ottonella Mocellin, MoneyNations, Gianni Motti, Museo Stickerman, Luigi Negro, Nessuno, Olaf Nicolai, Eustachio Nicoletti, NomadenHeft, Giancarlo Norese, Andrea Nurcis, Hans Ulrich Obrist, ObScene, Officine, Albert o' Grampied, Orb.it, Orchestra Stolpnik, Elisa Ottaviani, Laura Palmieri, Armando Pajalich, Lisa Parola, Partito del Tubo, Chiara Passa, Koca Pavlovic, Alberta Pellacani, Nicola Pellegrini, Ana Peraica, Sanja Perisic, Luisa Perlo, Stefania Perna, Eva Persson, Marco Piamonte, Cesare Pietroiusti, Bartolomeo Pietromarchi, Alessandra Pioselli, Bianca Polledro, Gloria Pomardi, Pompeiorama, Pow Group BluePrint, Project Environment, La Rada, Anteo Radovan, Radio Studio B2-92 / CyberRex Project, Ragazzi Terribili, Alessandra Raso, Melisa Rastoder, Samir Rastoder, Maria Grazia Recanati, Olivier Reneau, Riksutställningar, Fabrizio Rivola, Massimo Ruiu, Roland Rust, Neli Ruzic Del Castillo, Pier Luigi Sacco, Sabina Salamon, Daniela Salvioni, Giulia Sanderson Marabini, Gabi Scardi, Antonio Scarponi, Schismophonia, Anne Schlöpke, Tilo Schulz, Johannes Schweiger, Ann Seebach, Marco Senaldi, Setola di Maiale, Alessandro Seu, Sistemi Naturali, Smitta, Snowdonia, Djurdjica Z. Sorensen, Stalker, Ulrika Sten, Igor Stepancic, Kristine Stiles, Studio Binser, Alma Suljevic, Sunday School, Surgical Vandalism, Synesthésie, Harald Szeemann, Federico Tanzi-Mira, Teatro della Polvere, The Books of Knijge, Barbara Thiel, Torazine, Roberta Torre, Adriana Torregrossa, Alessandra Tortarolo, Annalisa Tota, trans, Giovanna Trento, Michele Trimarchi, Simon Tweed, Gianluca Umiliacchi / Bastian Contrario, UnDo.Net, Vittorio Urbani, Barbara Vanderlinden, Cedomir Vasic, Vegetali Ignoti, Laura Verdi, Pasquale Verdicchio, Cesare Viel, Vladimir Vinciguerra, Luca Vitone, Vortice Associazione Culturale, Katrin Walter, Ryszard Wasko, WochenKlausur, Wurmkos, Zar, Zerynthia, Amra Zulfikarpasic.